Urban Avenger was a competitor robot from Arenas of Destruction, that competed in Extreme 2 of Diotoir's Wacky Rumbles.
Robot History
Edit
Extreme 2
Edit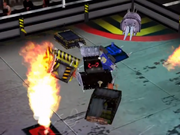 Urban Avenger fought Chaos 2, Behemoth, Pussycat, The Marshell and Draven. Almost immediately, Draven had problems and was immobile straight away as all the opponents bashed into it. Chaos 2 barges through flipping the opponents, though not up and over before shoving the immobile Draven aside. The Marshell hammers Pussycat who is slammed upwards while Draven is flipped up and over by Chaos 2. Urban Avenger uses its chainsaw to grind away the already defeated Draven as the other opponents battle one another.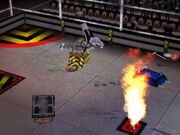 Pussycat uses its disc to cut through Behemoth and The Marshell before Chaos 2 flips it over The Marshell. Chaos 2 viciously attacks Behemoth while Pussycat is chased by The Marshell, both machines target Urban Avenger. Behemoth flips Chaos 2 who self right and attacks Urban Avenger, The Marshel and Pussycat, with The Marshell losing its axe, Pussycat losing its armour and Urban Avenger being toppled over.
Wins/Losses
Edit