Pussycat was a heavyweight robot which competed in competed in Extreme 2 of Diotoir's Wacky Rumbles.
Pussycat was entered by the Cold Fusion Team and was the successor to their previous robot, Bodyhammer. Due to several factors, including the untimely death of driver David Gribble, Pussycat had more team members and captains than any other robot.
The robot was given its name due to its ability to always land on its feet and as an attempt to differentiate the robot from other "doom and gloom" names.
Robot History
Edit
Extreme 2
Edit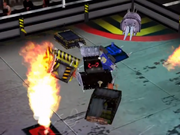 Pussycat fought Chaos 2, Behemoth, The Marshell, Urban Avenger and Draven. Almost immediately, Draven had problems and was immobile straight away as all the opponents bashed into it. Chaos 2 barges through flipping the opponents, though not up and over before shoving the immobile Draven aside. The Marshell hammers Pussycat who is slammed upwards while Draven is flipped up and over by Chaos 2. Urban Avenger uses its chainsaw to grind away the already defeated Draven as the other opponents battle one another.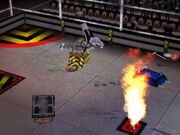 Pussycat uses its disc to cut through Behemoth and The Marshell before Chaos 2 flips it over The Marshell. Chaos 2 viciously attacks Behemoth while Pussycat is chased by The Marshell, both machines target Urban Avenger. Behemoth flips Chaos 2 who self right and attacks Urban Avenger, The Marshel and Pussycat, with The Marshell losing its axe, Pussycat losing its armour and Urban Avenger being toppled over.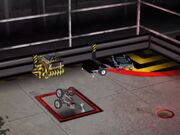 Chaos 2 shunts Pussycat into Sir Killalot but loses chunks of its armour from the deadly Pussycat blade. Pussycat is shoved about by The Marshell and Chaos 2 while Behemoth starts losing some control. The pit falls as Pussycat drives into it while Chaos 2 flips The Marshell over.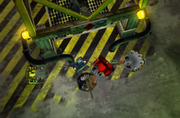 Pussycat fought in the North Sea oilrig rumble with Porcupine, Terrorhurtz, Scimitar and Sparko. Pussycat and Sparko turned and attacked one another while both Scimitar and Terrorhurtz performed a pincer movement on Porcupine with the powerful axe of Terrorhurtz smashing down first. Porcupine pinned between both axe bots, pushes back against Terrorhurtz, meanwhile Pussycat is slammed against the arena drill by Sparko. Pussycat cuts into Sparko, while, Porcupine pushes towards Scimitar attempting to flip it only for it to lose its back spike while Scimitar loses its axe. Porcupine runs away towards Pussycat and Sparko where it flips Pussycat, causing damage as the two axe bots clash in the mayhem too. Pussycat reverses and ends up toppling onto its side while Terrorhurtz loses its axe and Porcupine flips Sparko over.
PUSSYCAT - RESULTS
Extreme 2
Annihilator
Third
Annihilator
vs. Chaos 2 vs Behemoth vs The Marshell vs Urban Avenger vs Draven
Lost
Series 3
Rumbles
North Sea Oilrig
North Sea Oilrig
vs. Terrorhurtz vs Porcupine vs Sparko vs Scimitar
Lost
Wins/Losses
Edit