Meggamouse was a robot which competed in every Series of Diotoir's Wacky Rumbles so far and is one of the more successful machines on the show.
Robot History
Edit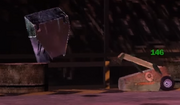 In the first ever battle, they fought Eruption, The Naked Rat and Nuts. As the match began, Eruption flipped The Naked Rat over with Meggamouse attempting to attack the rat too. Eruption attempts to flip Nuts over, but fails to do so while Meggamouse chucks Naked Rat across the arena. Nuts span on the spot as Eruption tried to attack it but was mainly unable to, as that happened Meggamouse rammed The Naked Rat towards the other side of the arena causing Eruption to change focus. Eruption quickly flips Meggamouse before assaulting The Naked Rat, with Meggamouse assisting Eruption with the attack on The Naked Rat and soon Nuts joining in on the gang up. The two flippers decided to split up and attack the other competitors, with Eruption flipping Nuts and Meggamouse sending Naked Rat across the other side of the arena. Eruption then goes after Meggamouse and Naked Rat, flipping both before chasing Naked Rat towards the arena wall, flipping it over on its back before flipping it some more. Naked Rat is then rammed by Eruption and eventually flipped out of the arena, Eruption then presses the pit release and attempts to flip Nuts and/or Meggamouse out of the arena, only for Meggamouse to get in behind and chuck Eruption out.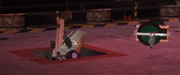 Its first opponent was Nuts, again. Meggamouse gets a quick flip on Nuts, flipping it over but not out. Nuts was trapped on its rim allowing for Meggamouse to flip it but Meggamouse misses and so reverses into Nuts while on its back. Both Robots eventually get back on its wheels and charge at one another. Meggamouse flips Nuts over twice and almost gets it out of the arena. Meggamouse attempts to ram into the pit release but misses, causing Nuts to charge into it, bashing it into the pit release. Nuts began to spin on the spot thwacking Meggamouse, disallowing Meggamouse to flip them. Meggamouse did eventually flip Nuts but became too arrogant and failed to flip Nuts instead driving wildly into the side walls, it reverses and almost drives into teh pit. Nuts span on the spot again, hitting Meggamouse only to get flipped, however when Meggamouse came for another attack it misfired and ended up reversing and eventually falling into the pit.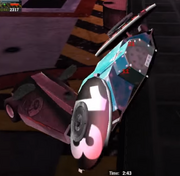 Next they fought 13 Black. 13 Black started well hitting Meggamouse around the sides and the flipper. Meggamouse soon got revenge and flips 13 Black towards the CPZ. Meggamouse soon flipped 13 Black towards the other side of the arena and proceeded to chuck 13 Black out.
Finally they fought Ripper. At first Meggamouse got the upper hand getting underneath and shunting Ripper across the arena and into the side wall. Ripper is flipped but survives and continues to self right with the powerful flipper. Ripper then gets around Meggamouse's side and proceeded to chuck Meggamouse out of the arena.
Extreme 1
Edit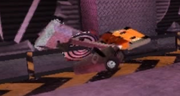 Meggamouse first competed in the Tag Team, with Foxic as its partner forming Team Animal. They first fought Team Disc-Truction, made up of Last Rites and Hypno-Disc. Last Rites made the first move hitting Meggamouse with Foxic charging in and hitting Last Rites. Hypno-Disc smashes into Foxic, only for the flywheel to deflect, Last Rites is then ganged up upon by Foxic and Meggamouse who flip them by the flame pit. Hypno-Disc smashes into Team Animal but is flipped as a result while Last Rite's bar causes the robot bounce and spin wildly. After regaining stability, Last Rites attacks Meggamouse with two powerful swipes but became unstable again, a third hit caused Last Rites to spin spastically and throw itself out of the arena. Hypno-Disc had struggled with Foxic who kept deflecting its attacks and rammed it about. Meggamouse came in from the side and chucked Hypno-Disc over, Team Animal proceeded to shunt Hypno-Disc towards the back of the arena, Meggamouse flipped both Foxic and Hypno-Disc, accidently immobilizing Foxic but managing to flip Hypno-Disc out.
Next they fought Team Rambot, cosisting of Storm 2 and Tornado. Storm 2 rams into Meggamouse only for Meggamouse to flip, missing Storm 2 and throwing itself back. Tornado, meanwhile, fought Foxic but is pushed around. Both Foxic and Tornado are eventually flipped by the floor flipper. Storm 2 attempts to attack Meggamouse again but misses it opportunity and slams into the arena wall where Meggamouse flips Storm 2 out. Foxic shunts Tornado around before its partner Meggamouse flips Tornado around the arena before getting rid of Tornado once and for all with an out of the arena.
In the end they fought Team Champ, consisting of Eruption and Megabyte. Eruption quickly flipped Foxic over but is charged at and flipped by Meggamouse as a respone as Meggabyte came forth and attacked Team Animal. Upon self righting Eruption took revenge on Meggamouse flipping it about and almost flipping Meggamouse out of the arena. Foxic is bashed away and sent towards Eruption who flips Foxic as a response. Erupion gets underneath and flips Fioxic some more before charging towards the side wall and flipping Foxic out. Meggamouse was pinned and battered by the deadly spinner of Megabyte. Meggamouse is eventually flipped onto the side wall where it was balanced and was slowly tipped over and out.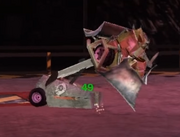 Along side Nuts, the two fought against Matilda and Shunt. The two House Robots and competitors chose their victims, Matilda targeted Nuts flipping it across the arena while Shunt was attacked by Meggamouse who flipped it but didn't turn over. In an effort to save its partner, Meggamouse attempts to flip Matilda but is flipped and chased away all while suffering blows from Shunt. Nuts tries to distract the House Robots failing at first but soon Matilda turned its attentions on Nuts flipping it about again. Meggamouse tries to escape from Shunt's clutches but flips itself over allowing for Matilda to attack it. Nuts spins on the spot and smacks into Matilda trying to distract her but Shunt begins to hammer away at Nuts and Meggamouse, soon Meggamouse chucks Matilda while Nuts is slammed into the CPZ by Shunt. Meggamouse comes to save Nuts and finally flips Shunt over for good this time, leaving only Matilda to contend against. Matilda targets Meggamouse flipping it across the arena while Nuts became temporarily stuck. Matilda eventually flipped Meggamouse into the pit, but ended up pitting itself with some assistance from Nuts. Despite Meggamouse falling in the pit, both Nuts and Meggamouse won the battle.
Returning in Series 2 they fought Scorpion, S.M.I.D.S.Y. and 13 Black, again. All the robots confronted Meggamouse and ganged up on, slamming it up and over before it self righted and got away. Meggamouse flipped 13 Black over leaving it for Scorpion to smack it not long after Scorpion darted at Meggamouse's side and back wheel, even as it flipped S.M.I.D.S.Y. over. 13 Black was flipped back over and began an onslaught cornering Meggamouse with the assistance from the other opponents. Meggamouse flipped S.M.I.D.S.Y. over but this did nothing to effect S.M.I.D.S.Y. Scorpion was flipped by Meggamouse on its front and stood still for a moment before rejoining the battle hitting each opponent in its path. S.M.I.D.S.Y. soon gets slammed by Meggamouse and pressed into the CPZ. Scorpion assaulted 13 Black causing significant damage and even ripped off the one flywheel. Meggamouse manages to flip 13 Black over, resulting in 13 Black unable to self right and was promptly counted out. S.M.I.D.S.Y. slams Meggamouse and gets underneath it pushing it into the blade of Scorpion tearing off a tire. As S.M.I.D.S.Y. slowly pushed Meggammouse towards the pit, Meggamouse quickly flipped itself to safety, Scorpion foolishly pitted itself while assisting S.M.I.D.S.Y. eliminating itself.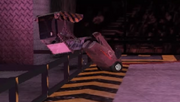 First they fought the third placers Behemoth. Meggamouse spins past Behemoth before flipping them over. Behemoth quickly tries to self right but is rolled over by Meggamouse. Behemoth manages to get back on its wheels but the quick Meggamouse gets behind Behemoth and proceeded to chuck the third seeds out.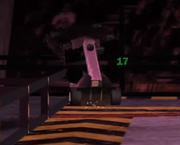 Next they fought S.M.I.D.S.Y., again. Meggamouse quickly flipped S.M.I.D.S.Y. but was unable to control it. S.M.I.D.S.Y. recovered and began to ram Meggamouse about in particular the sides, it even caused Meggamouse to topple on its back a few times forcing it to self right. Meggamouse got its revenge on S.M.I.D.S.Y. by flipping it against the side wall where it drove away, though upside down and more vulnerable. S.M.I.D.S.Y. is rammed by Meggamouse who shunts it to the other side of the arena and proceeded to flip S.M.I.D.S.Y. out of the arena.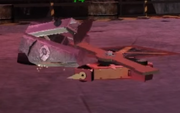 Finally they fought Apex. Meggamouse charges into Apex knocking it slightly. Apex aggressively smacks into Meggamouse battering its side. Apex continuously attacks Meggamouse but spins away upon each impact, eventually, Meggamouse retaliates and flips Apex up. Meggamouse goes on the attack and chucks Apex on its back, however Apex was able to attack despite being upside down damaging the bottom of Meggamouse. Apex self rights and continues its assault on Meggamouse, but Apex is chucked about some more. Apex is almost chucked out of the arena but it survives. Apex, upside down again, spins and damages Meggamouse all while self righting and battling Meggamouse with the powerful bar. Two very powerful hits send Meggamouse onto its back and side, forcing it to self right. Meggamouse takes heavy damage but manages to get revenge by flipping Apex over a few time, the deadly bar spinner came back and up to speed again. Meggamouse flips Apex over again, but as before it still caused damage and eventually self righted before targeting Meggamouse again, this time hitting it into a side wall and pinning them briefly. Meggamouse flips Apex again and continues to flip Apex over and over again across the arena, bullying it into the CPZ and by the side walls. Apex eventually escapes and bashes Meggamouse onto its side damaging it some more before Meggamouse repeats its attack by flipping Apex over. In the closing minute Apex damages Meggamouse through the the powerful spinner while Meggamouse just in the last ten seconds flips Apex. It goes to a judges decision and Apex is rewarded the victory.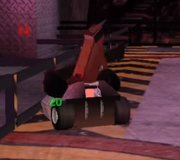 In the Heat Final, they fought Apex again. The two machines smash into one another, with Apex and Meggamouse driving on top of the floor flipper where they are both flipped by it. Meggamouse rams Apex and flips it over. Apex tries to attack Meggamouse but the mechanical rodent flips and smashes Apex into the side wall where Apex became immobilized from the hit sending Meggamouse through to the Grand Final.
In the first round of the Grand Final, Meggamouse fought Big Nipper, Electric Boogaloo and Breaker Box. Breaker Box charges towards Meggamouse at first before turning and attempting to lift Electric Boogaloo buts is thrown upward by the spinning bar. As Breaker Box attempted to self right, Big Nipper darts in and rams the American machine. Meggamouse flips the two machines upwards with but of them landing of the spinning bar of Electric Boogaloo. Meggamouse rams the other two opponents as Breaker Box rams into the pit release before coming back in and attacking Electric Boogaloo. All four robots circle dangerously under the drop zone before the inevitable happens and all four machines are smashed by bowling balls, with Electric Boogaloo suffering the worst of it. Meggamouse throws Electric Boogaloo around while Big Nipper chases Breaker Box. Meggamouse chucks Electric Boogaloo once more before Breaker Box rams Meggamouse into Big Nipper who proceeds to crush the mouse. Electric Boogaloo stumbles back into the battle, smacking Breaker Box out of the way before bulldozing into Meggamouse as Big Nipper lifts Breaker Box upwards. Big Nipper lifts Breaker Box while Electric Boogaloo batters it with the spinning bar. Meggamouse self rights and comes in to attack the other thre, throwing Electric Boogaloo out and Breaker Box onto its side. Breaker Box runs away but is attacked by Big Nipper and Meggamouse. Breaker Box rams Big Nipper into the side wall and attempts to throw them out, but Meggamous charges in from behind and throws Breaker Box out.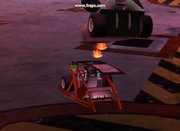 First Meggamouse fought Beast. The two flippers clash with Meggamouse flipping Beast over, it self rights as Meggamouse rams it from behind. Meggamouse flips Beast again, but the powerful flipper of Beast came back around and throws Meggamouse upwards. Beast controls the movements of Meggamouse, flipping it once where it tilts side wards allowing Beast to ram and push Meggamouse into the CPZ where it chucks Meggamouse out of the arena.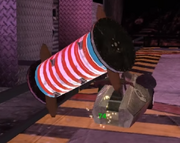 Next they fought Barber-Ous. Barber-Ous smashes into Meggamouse, sending it upwards and causing some extensive damage as it rams Meggamouse about. Meggamouse frees itself and flips Barber-Ous into the side wall getting one half out and the other in. Meggamouse then rams Barber-Ous against the side wall knocking the other half out of the arena.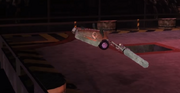 Finally they fought Big Nipper again. As Big Nipper charges towards Meggamouse, it misfires its flip on Big Nipper. Meggamouse runs away as Big Nipper attacks it with Meggamouse toppling about, unable to gain purchase. Meggamouse flips but Big Nipper continues to pressure Meggamouse with it being rammed into the side wall and into the pit release before the claws of Big Nipper grabs hold but is flipped a few times. Meggamouse circles to try and flip Big Nipper, but the claws of Big Nipper charged at Meggamouse, shunting it about before grabbing hold from behind and lifting it upwards and throwing it out of the arena.
Wins/Losses
Edit