Chaos 2 was a competitor robot which appeared in Extreme 2 of Diotoir's Wacky Rumbles. Like Razer it is perhaps one of the most famous robots to appear. The real machine was built by Ipswich mechanic George Francis of Team Chaos, Chaos 2 was the most successful pioneer of the rear-hinged flipper.
Robot History
Edit
Extreme 2
Edit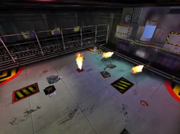 Chaos 2 fought in the Capture the Flag event against Terrorhurtz, The Axe Master, The Bullock, Robotica and Behemoth. Chaos 2 charges into position and chucks Robotica over but reveres quickly, knocking them back over, while Behemoth lifts Terrorhurtz and The Axe Master runs away from the main battle. The Bullock slowly turns as Chaos 2 gets around the side and flips it over, meanwhile the rest of the competitors chase the flag into Matilda's CPZ and almost topples her. The robots are intercepted by Chaos 2 who flips Robotica and The Axe Master over and over again before finally throwing Robotica over.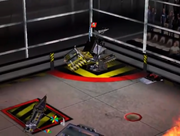 The robots clash into the CPZ where Chaos 2 loses its flipper. Behemoth flips Chaos 2 and almost throws them out but Chaos 2 survives, meanwhile Terrorhurts uses its axe to topple The Axe Master over and onto it back. Behemoth, Chaos 2 and Terrorhurtz all briefly capture the flag but all lose it very quickly to one another as the battle gets more violent.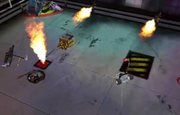 The heavily damaged Chaos 2 captures the flag and runs away with it, as Terrorhurtz follows suit. Behemoth starts to lose control and rampages through, charging into the side wall, almost unable to move. Chaos 2 circles around the pit as Terrorhurtz continues to chase it, but the pit begins to depress, causing Chaos 2 to slam into the uncontrollable Behemoth, losing the flag to it but soon the flag is smashed out of reach by Terrorhurtz who ends up being shunted by Chaos 2 and toppled on it back, where it was unable to self right. As Behemoth was uncontrollable and Terrorhurtz was immobile, Chaos 2 won the event.
Wins/Losses
Edit