Cerberus was a competitor robot that fought in every series of Diotoir's Wacky Rumbles so far. The robot was named after and designed in reference to the three-headed hound Cerberus, guardian of the underworld in Greek mythology.
Robot History
Edit
In it's debut if fought Last Rites, Noisy Cricket and Tsunami. Both Cerberus and Noisy Cricket started off slowly creeping the centre of the arena, however Tsunami began to attack Cerberus while Last Rites smashed into Noisy Cricket away. Tsunami flipped Cerberus over and soon set its sights on Last Rites. Last Rites turns and hits an upside down Cerberus sending it and itself flying away.
Extreme 1
Edit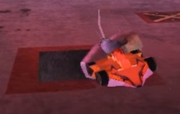 Cerberus fought against the Challenge Belt holder at the time Foxic. The initial charge by Foxic towards Cerberus almost toppled the two machines. Cerberus is rammed front on by Foxic who proceeds to slam Cerberus towards the side wall flipping it on top on Foxic briefly. Foxic presses the pit release but this gave Cerberus an advantage as the claw was used to get underneath and puncture the bottom of Foxic's wedge. Foxic gets away and lures Cerberus near towards the pit, ramming it constantly. Cerberus gets behind Foxic and is soon pushed into the pit via Foxic reversing.
Cerberus fought in Heat A against the reigning champions Weird mAlice, newcomers Banana Split and Mr Nasty. As Mr Nasty was flipped out by Weird mAlice, Cerberus attacked Banana Split. However, Weird mAlice charged towards Cerberus and flipped it over before chucking them out.
| Series | Event | Opponent(s) | Results |
| --- | --- | --- | --- |
| Series 1 | Heat A | Last Rites | Lost |
| Extreme 1 | Challenge Belt | Foxic | Lost |
| Series 2 | Heat A | Weird mAlice (1) | Lost |
Wins/Losses
Edit