Beckatron is a competitor in the games Robot Wars: Arenas of Destruction and appeared in Extreme 2 of Diotoir's Wacky Rumbles.
Robot History
Edit
Extreme 2
Edit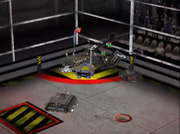 It fought against Mortis, Terrorhurtz, Hurricane, Robotica and De Bunker. All the robots, bar Beckatron and Hurricane, smashed into the center of the arena as the flag spins away into the side wall. Hurricane and De Bunker use their blades to damage Robitca who was being pushed, while Terrohurtz attempts to hit the backend. Mortis and Beckatron push the coupled robots into the CPZ. All of the robots swarm the CPZ in attempts to get the flag, De Bunker and Robotica suffer heavy damage as Hurricane is thrown out of the arena by the sheer force of all the robots mashing into one another. As the robots continue to fight for the flag, Terrorhurtz slams its axe down on the back of Robotica but manages to topple De Bunker over onto its back, meanwhile Mortis is trapped beneath the other machines and takes considerable damage.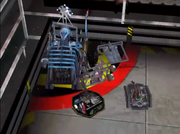 Mortis backs away, shoving the other opponents out of the way. Beckatron chases after Terrorhurtz in the vain attempts to jab it with the spike but Terrorhurtz went for the flag, accidentally sending it sky high after hitting it. Robotica is smacked by Terrorhurtz and Beckatron breifly and is knocked out.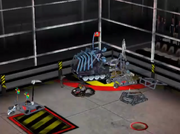 Sir Killalot exits hits CPZ and crushes the upturned De Bunker as well as Beckatron who in turn was smashed by Terrorhurtz. Mortis tries to chase after the flag, but Terrorhurtz's axe delivers the final blow, knocking them immobile. Beaktron escapes Killalot's grasps but also gets the flag. Beckatron is attacked by the axe of Terrorhurtz all while being shunted into Sir Killalot. Beckatron loses all mobility leaving Terrorhurtz the only robot mobile.
Wins/Losses
Edit